In november, I signed up for a christmas book exchange on
Emmyne's blog
.

She organized a great swap !!!

This is what I got for Steb and Emma from
Juliette
(but we shared with Pierre as he complained right away: but why don't I have something me too?
12 years old ... you'll think he passed this stage: why him and not me ...
)
Juliette
showed more pictures on her blog.
Steb and Emma were very excited to open some presents:
Pierre opened the night before christmas (a book I was planning on buying !) You did a great job choosing the books Juliette!!!
Emma opened an activity book and Steb a little bear book. Juliette didn't know it but she sent Steb his favorite chocolate: chocolate lollipops. And she made two handmade ornament, including one she cross stitched !!!
I sent some christmas books to Picokoa and her sons: I shamelessly stole the pictures from her blog because with the move, I forgot to take pictures ... J'espère que tu ne m'en voudras pas
I had a lot of fun wrapping those books for her sons, finding the matching sticker with the wrapping paper. I found a great book for her little one: an odor book with christmas fragance. I got the same one for Steb but haven't found it yet ... Julie was sweet enough not to get mad at me as I was very late at sending her package. Merci Julie et encore une fois, désolée pour ce grand retard.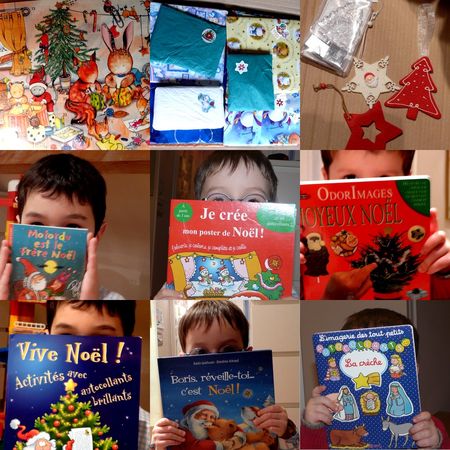 Google.fr

is having a serie of holiday pictures:
Yesterday, Steb didn't take a nap, that's why his day ended up this way
:
And to finish, my fuchsia: